Denis Law
se convirtió en un mito vistiendo la camiseta del
Manchester United
. En Old Trafford estuvo 11 temporadas, en las que marcó 237 goles y levantó 2 Ligas, 1 FA Cup y 1 Copa de Europa, Balón de Oro incluido. Formaba, junto a
Best
y
Charlton
, la Santísima Trinidad. Lo que no todos saben, es que antes estuvo en el
City
y que, además, se retiró vestido de
citizen
, y mandando al
United
a segunda. Ocurrió el 27 de abril de 1974. El
City
visitaba a un
United
al borde del abismo que necesitaba puntuar para no descender. Perdió 0-1, con un gol de tacón de
Denis Law
, que al finalizar la temporada se retiró diciendo que aquel había sido uno de los momentos más tristes de su carrera.
Esta es sólo una historia más del
Manchester derby
, encuentro que se repite este domingo en Old Trafford, uno de los más parejos de los últimos años, con los equipos igualados a puntos en lo alto de la tabla, y eso que el
City
ha disputado un partido menos. La nota negativa es que el
Man of the Match
,
Carlos Tévez
, tiene muy complicada su presencia tras lesionarse en el Argentina-Brasil. Él es uno más de la lista de jugadores que pasaron de un equipo al otro, un elenco marcado en sus inicios por el fichaje en 1908 de
Billy Meredith
, estrella por entonces del
City
, por el
ManU
, donde alzó la primera liga local de los
red devils
. Otro personaje ilustre es
Matt Busby
, mítico técnico del
United
durante 44 años que, en su etapa de jugador, vistió la camiseta del
City
durante 8 temporadas –con el que ganó una FA Cup y 1 Liga- y 3 la del
Liverpool,
el otro rival histórico del
ManU
.
-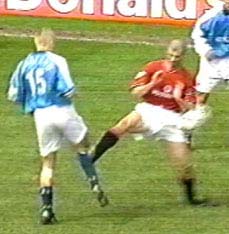 La historia de los
'derbys'
de
Manchester
es, como en todos estos casos, legendaria, con momentos míticos que han marcado una rivalidad totalmente irrevocable. Los del
City
, de origen protestante, y los del
United
, cuyos primeros aficionados eran católicos. Los primeros acusan a los
red devils
de ser un equipo de las afueras de
Manchester
, con pocos seguidores en la ciudad y basado siempre en el dinero (los famosos
Moneybags United
). Los del
ManU
consideran que su rival histórico es el
Liverpool
y que el
City
está en un nivel muy inferior. Y es que, aunque el
ManCity
tuvo épocas doradas en las que estuvo por encima de su vecino, se ha ganado la fama de ser uno de los 'pupas' de la
Premier
, club que, por ejemplo, vio al
United
levantar su primera
Copa de Europa
precisamente el año que ellos alzaban su segunda y úlima Liga. No obstante, también han tenido sus alegrías. Títulos aparte, los del
City
siguen presumiendo de sus dos últimas victorias en liga en Old Trafford, que distan en 34 años, dos triunfos sonados. El penúltimo, en
1974
, fue el que mandó al
United
al pozo. El último, un 1-2 en la temporada
2007-08,
el día del 50 aniversario del desastre de Múnich, día que amargó en parte el homenaje del
ManU
.
Atrás quedan los años de estadio compartido, el
Maine Road
, casa legendaria durante 80 años del
City
, hasta 2003, que fue también la del
United
durante cierto tiempo, tras quedar Old Trafford muy mermado por los bombardeos de la Segunda Guerra Mundial. De éstos surgió una leyenda entre los seguidores del
City
en 1994. El equipo azul cielo fichó del
Dynamo de Dresden
al alemán
Uwe Rösler
, de quién la afición decía que su abuelo había sido uno de los que bombardeó Old Trafford. ¿Y qué decir del "caso
Keane
"? El 21 de abril de 2001, en una pelota dividida, el capitán del
United
entró duramente al noruego
Alf-Inge Haaland
, que ya no volvería a jugar nunca más a fútbol. En un principio pareció un lance del juego, aunque algunos recordaron que, 5 años antes, el noruego, por entonces jugador del
Leeds
, fue el que lesionó a
Keane
. Todo se destapó con la publicación de la autobiografía del capitán del
ManU
: «Había esperado mucho tiempo. Le golpeé jodidamente duro. El balón estaba allí, creo. Toma ésta, bastardo. Y no vuelvas a mirarme burlándote de falsas lesiones". Ya lo decía
George Best
: "los Manchester derby eran una guerra, mejor no te atrevieras a perder".
-
Bonus:

Chistes habituales en referencia al contrario (extraído de
http://www.elgrafico.com.ar/
)
Del City al United:
1) Claudia Schiffer, Bill Gates y Osama Bin Laden van a ver a una bruja que­ tiene el auténtico espejo de la Cenicienta. En la sala de espera, Schiffer dice­: "Seguro que soy la más guapa del mundo". Gates acota: "Y yo soy el más rico d­l mundo". Bin Laden se florea: "Y yo, el más odiado del mundo". Uno a uno, van pasando. Schiffer sale sonriente­. Al rato, Gates sale festejando, gritando "lo sabía, lo sabía". Por último, entra Bin Laden y sale despotricando: "¿Quién demonios es este David Beckham?".
2) ¿Qué se obtiene si el Manchest­r United desciende?
Respuesta: 60 mil nuevos hinchas del Arsenal.
Del United al City:

1) ¿Cuántos hinchas del City se necesitan para cambiar una lamparita? Re­spue­sta: Ninguno, ésos siempre estuvieron muy contentos viviendo en las sombras.
2) Una maestra de primario les pregunta a sus alumnos de qué trabajan sus padres Después de escuchar respuestas como "médico" o "arquitecto" una chica la sorprende diciendo: "Mi papá es basurero de día y stripper en un cabaret gay de noche". Conmovida, la maestra hace salir a los alumnos para hablar con la niña. "Eso es verdad? Es terrible". "Claro que no, -contesta la niña-, en realidad es jugador del Manchester City, per me dio mucha vergüenza decirlo".
El gol de Law que manó al United a segunda:
La venganza de Roy Keane:
El "amor" de Oasis por el ManU: